Hackett Brass
1200 Lillibridge
Detroit, Michigan 48214 USA
313-822-1214
Fax 313-822-0407
ABOUT OUR COMPANY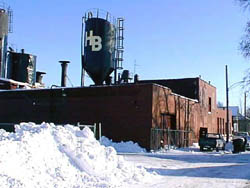 Hackett Brass manufactures a complete line of copper, bronze and aluminum castings in sand, permanent and centrifugal molds. Purchased in 1917 from the Hackett brothers, the foundry is now entering its fourth generation of family ownership and management.

In it's early years our foundry cast repairs for passing lake freighters. They would often pull off of the Detroit River into a canal behind the plant to wait for repairs.

During the Korean War we produced six bronze parts for the navy's Bofors gun. Production schedules required a second shift to allow "regular" work to continue during the day.

Hackett cast the spoiler stanchions for the first Daytona Charger. These were the tall stanchions that held the spoiler well above the roofline for stock car racing. Later we produced a shorter version for the street charger.

Other special casting include the dedication plaques on Detroit's McArthur Bridge and a 30-foot map of Michigan located on a plaza in Lansing, Michigan.

Hackett Brass management averages over 20 years per man of foundry experience. Our experience is what we did yesterday, this knowledge will help you tomorrow.
Return to Home Page